Frank's Hobby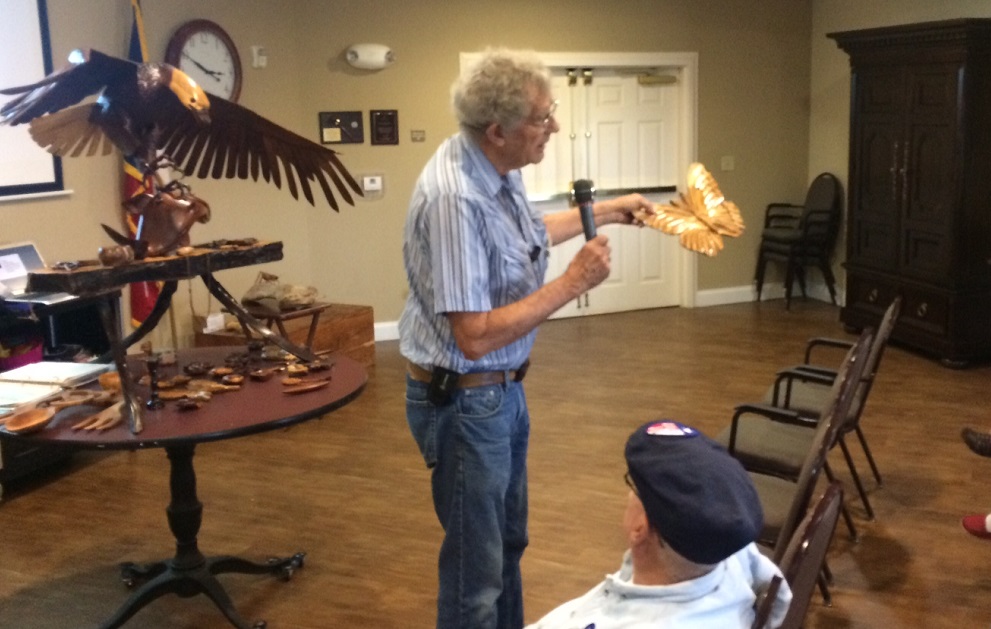 He showed us a butterfly made out of myrtlewood, his favorite wood.
---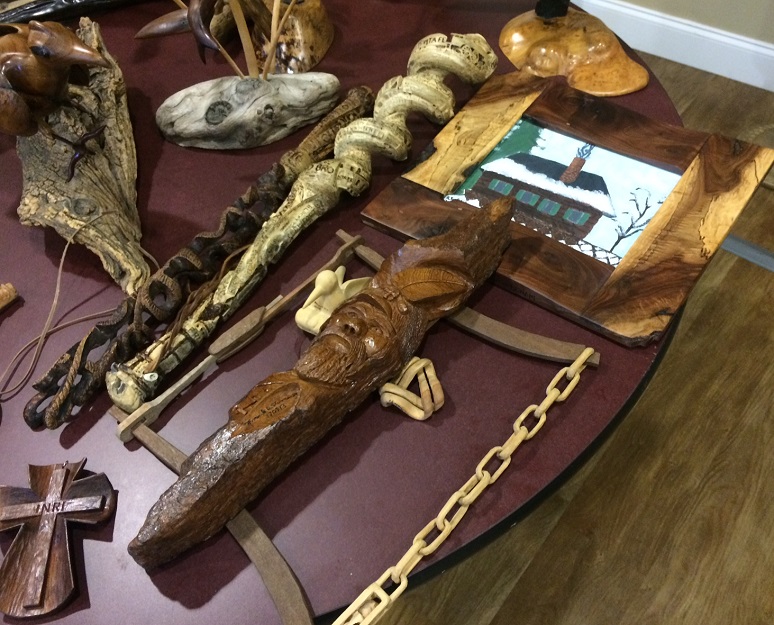 Note the Aggie chain saw.
---

When a friend gave him a twisted piece of wood, he had to figure out what to do with it. He first carved a train (spiral stick), then added some cool things he had seen on boxcars long ago. One example was a palm tree with a date and name.

He found another stick in Galveston that stirred his interest. He first carved "Frank" and "Jerry" on it (dark stick). He carved 6 sticks inside the handle with family names plus many other family names and a coat of arms on other areas.
---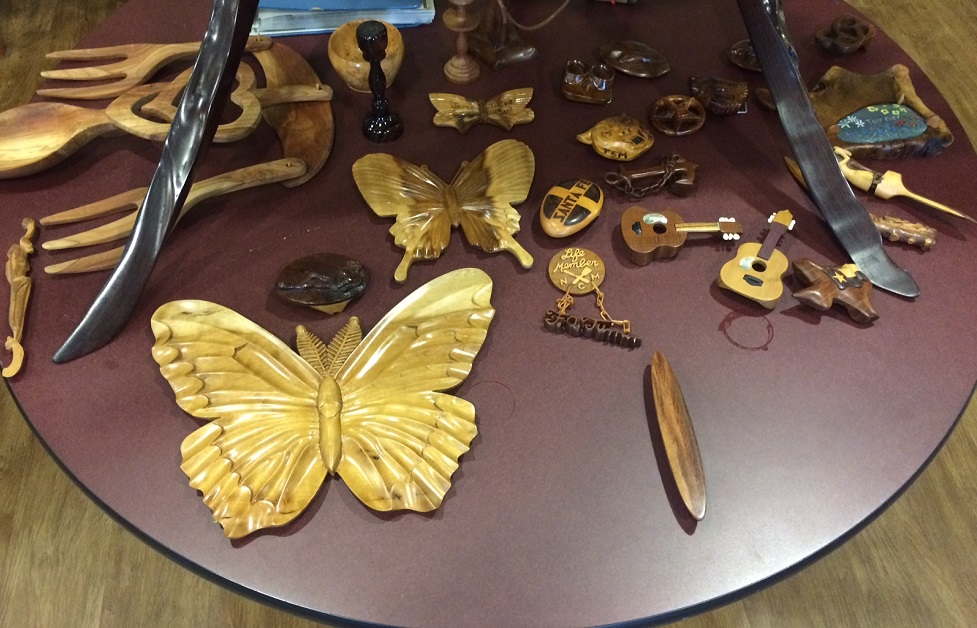 The myrtlewood butterfly and several belt buckles.
Jim Cunningham was sporting one of Frank's belt buckles.
---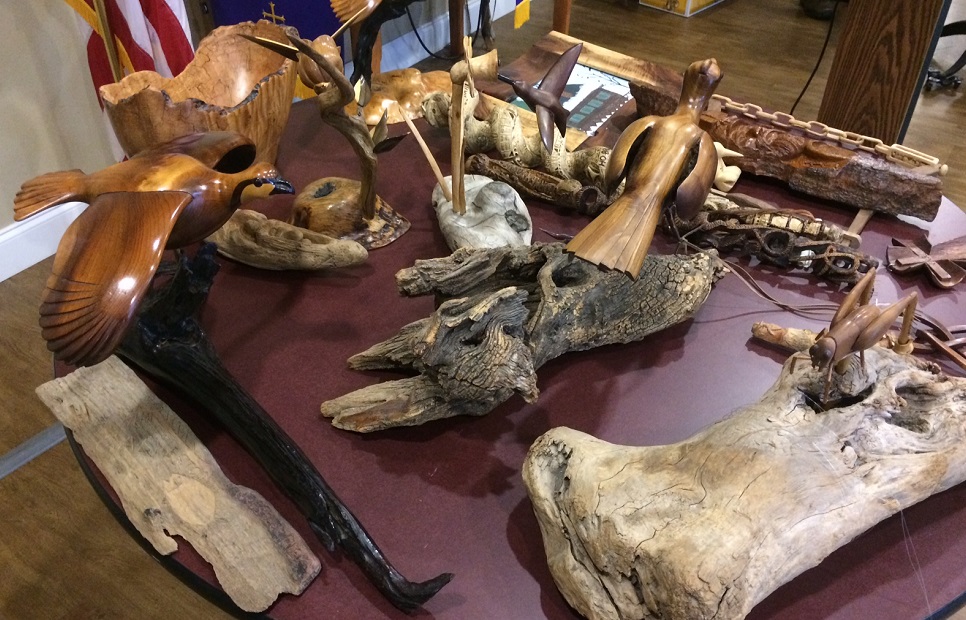 ---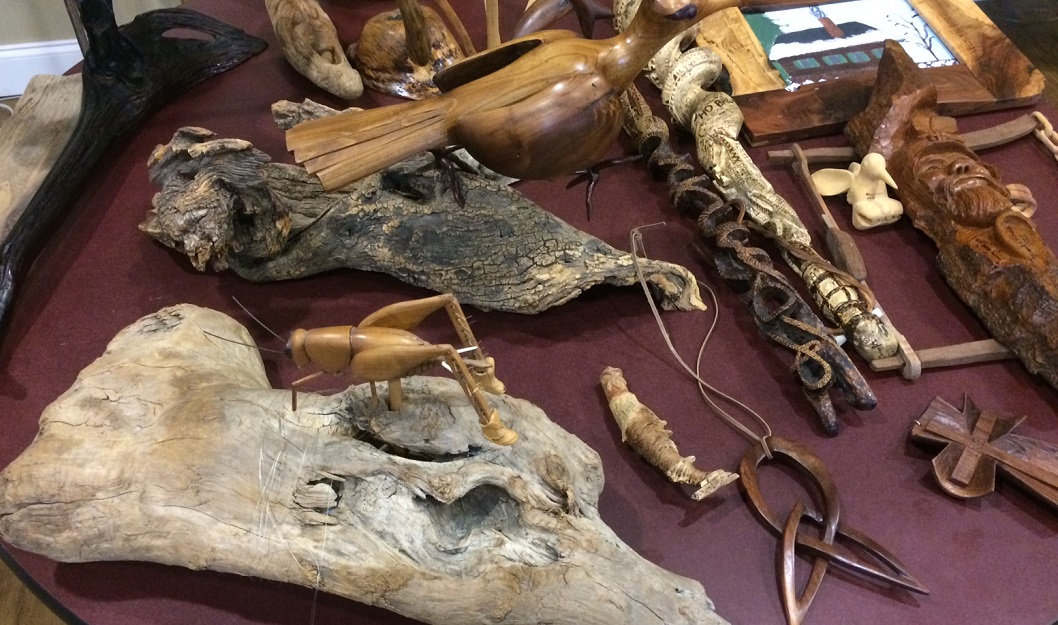 His grasshopper that will "hop" when you pull an invisible string. Once he surprised a 5-year old girl with his trick, and she had to show it to her family. It really made his day when she surprised them.
---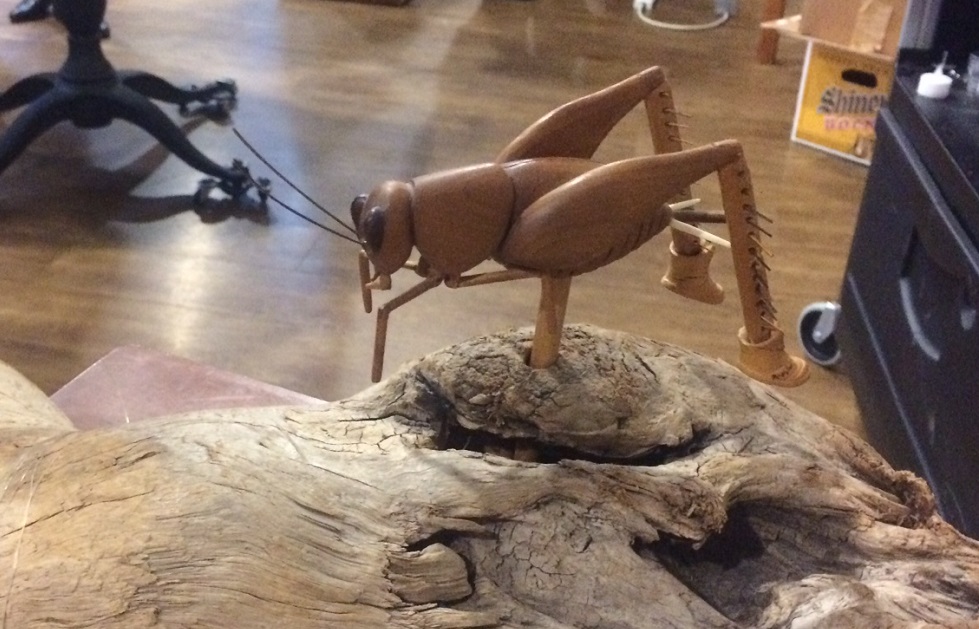 Note the Reedhops on his hind legs
---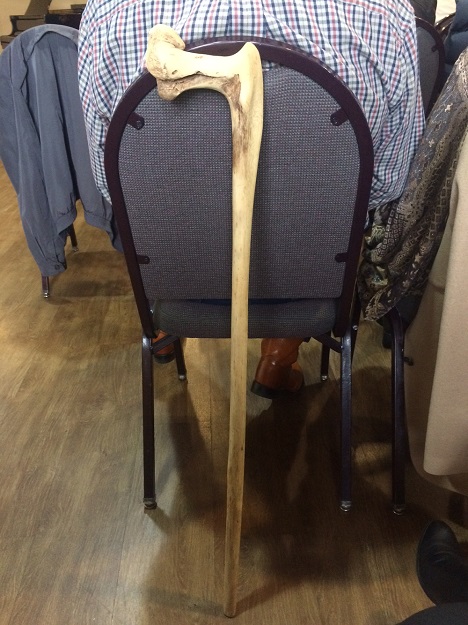 This cane looks like a hip joint and was made out of saguaro cactus. Another cane was in the shape of a dog's head.
---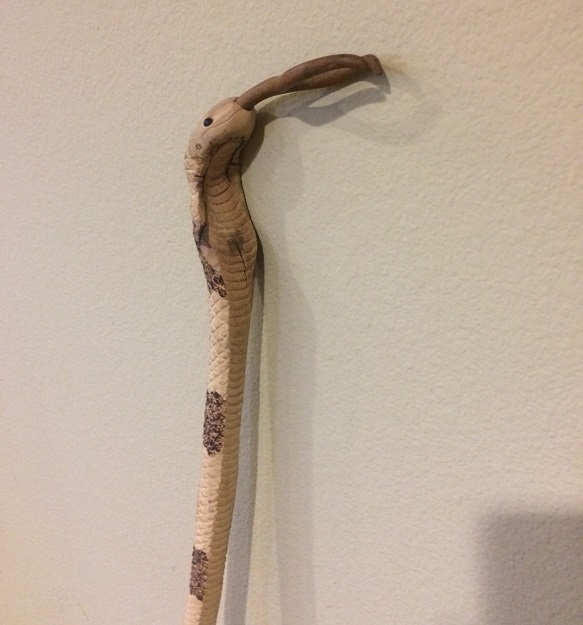 Nice looking snake.
---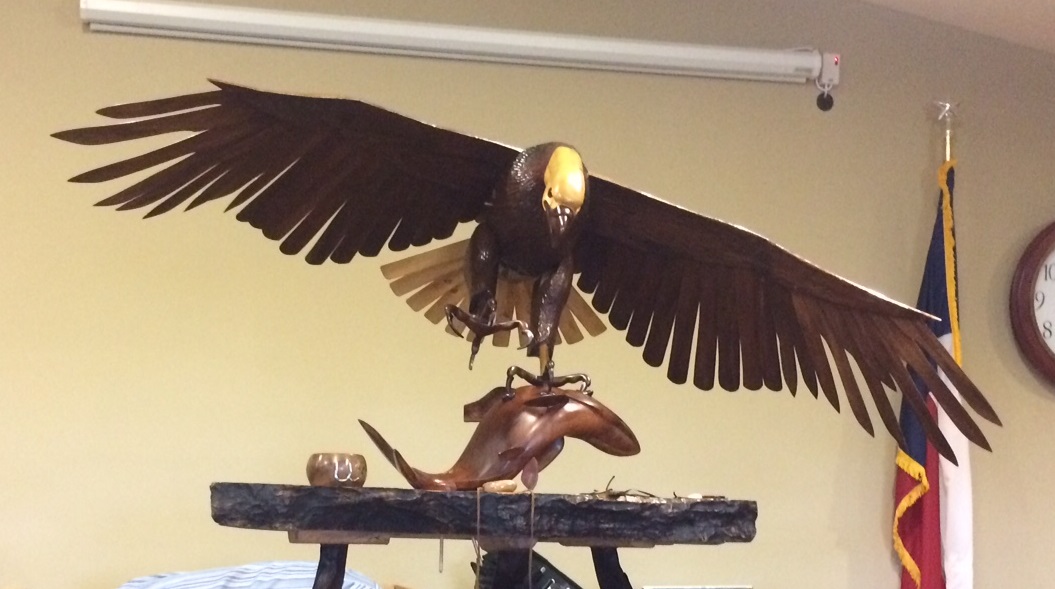 He saw a US Postal Service commercial in which an eagle swooped down and caught a bass out of the water. It took him 5 years to carve this scene.
---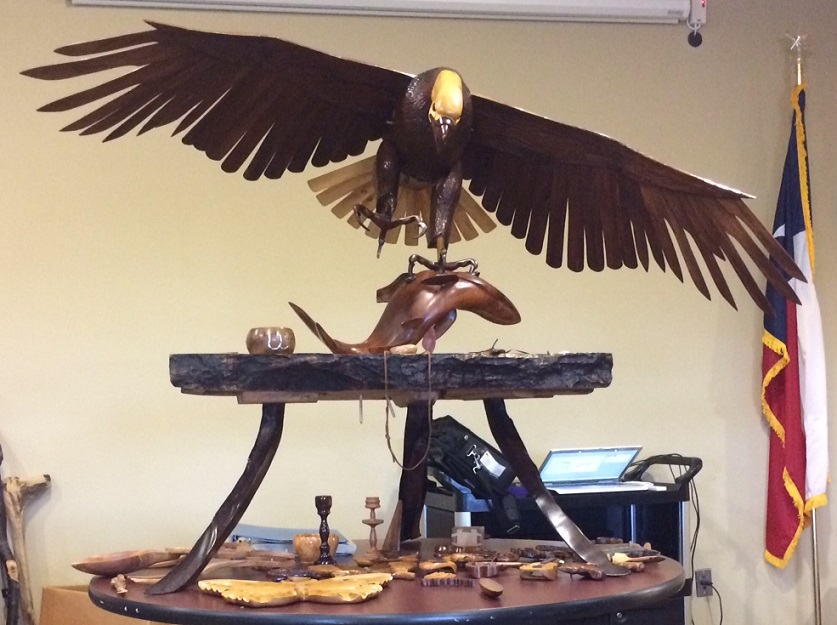 This carving contains over 9 different woods. The wings, fish, table top, and legs all pack nicely in his travel box.
---
His tools are a chain saw, radial arm saw, band saw, and the pocket knife. He still has his $13 knife that he bought at Gibson's. It's been a great knife, but he doesn't dare just carry it around. He buys some wood, finds unique pieces of wood, and friends give him choice pieces. He impressed us all.
---
Finely Dressed Members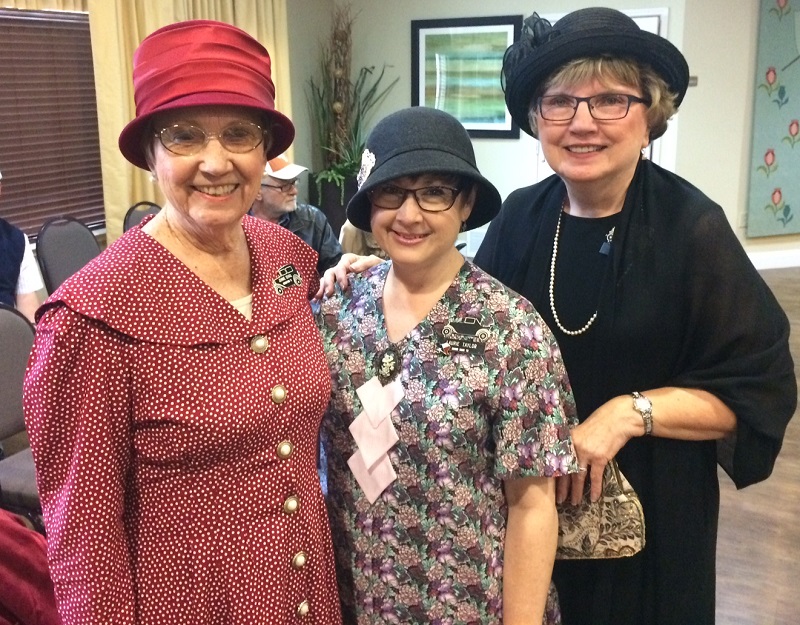 Jonnie DeVaul, Laurie Taylor, and June Bohn
---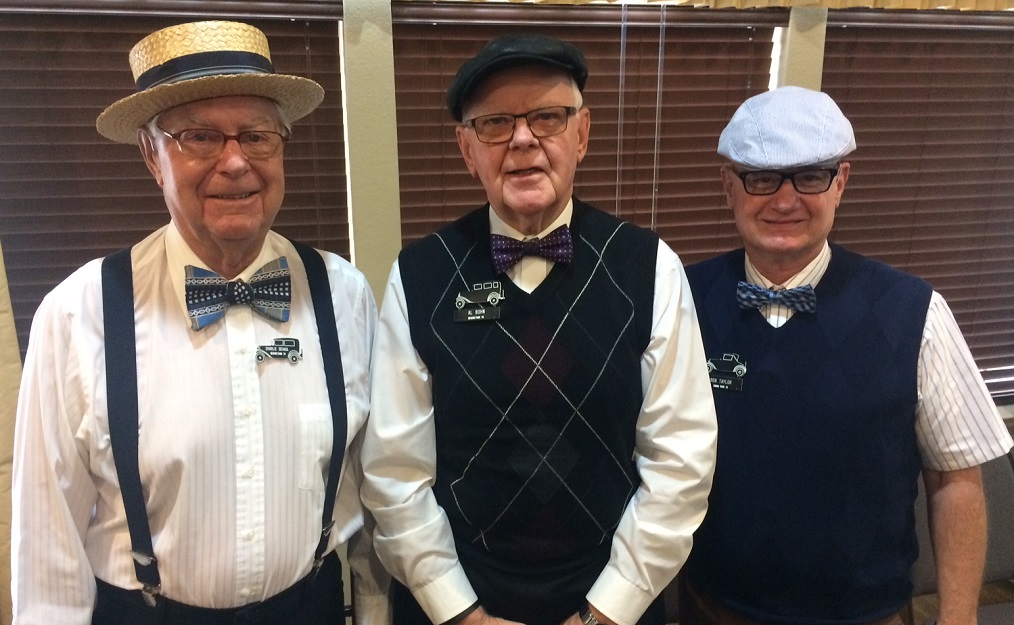 Charlie DeVaul, Al Bohn, Ron Taylor
---